BEST.
SUMMER.
EVER.
Summer camps at the YMCA give children the opportunity to try new things, make new friends, and create lasting memories. 
REGISTER TRANSPORTATION RELEASE FORM
---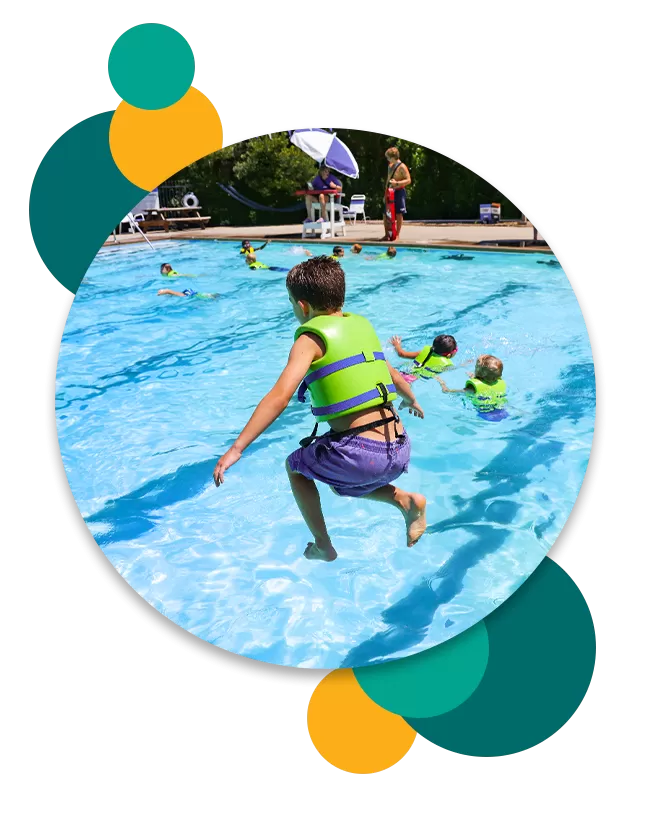 Summer Day Camp
Ages 5-13
Renville County Revolution Wellness offers a safe, fun, and affordable Summer Day Camp program for children who have completed kindergarten through those who are completing 5th grade based on healthy, hands-on activities that help children grow in spirit, mind, and body.
We also embrace the four core values of the YMCA: Caring, Honesty, Respect and Responsibility. Our trained camp counselors, who provide constant supervision and role modeling to campers, make Summer Day Camp a meaningful experience. Counselors complete extensive training in our policies and procedures, which stress health and safety in a fun environment.
All staff and volunteers undergo criminal background checks and are scanned against the National Sex Offender Registry.
Weekly Themes & Field Trips
| Dates | Theme | Field Trip |
| --- | --- | --- |
| June 5 - 9 | All About We | Edinborough Indoor Park |
| June 12 - 16 | Superheroes In Training | iFly or Ninja Park |
| June 19 - 23 | Let's Get Lost in Space | Minnesota Science Museum |
| June 26 - 30 | Creating Little Champions | Memorial Park |
| July 5 - 7 | Red, White, and Blue Bash | Redwood Falls Aquatics Center |
| July 10 - 14 | Animal Planet Adventures | Como Zoo |
| July 17 - 21 | It's a Neat-ure Experience | Stingers Game |
| July 24 - 28 | The Mystery of History | Redwood Falls Poor Farm |
| July 31 - August 4 | Color Me Excited | Waylon's Bowling Alley |
| August 7 - 11 | Diggin' With Dinos |   |
| August 14 - 18 | Welcome to the Wizarding World |   |
| August 21 - 25 | Flashback Through Summer |   |
Parent Information
June 5 - August 25
Our Full Camp Day runs from 7:30 am – 4:00 pm.  Our ½ Camp Day runs from 9:00 am – 12:30 pm.   Early drop off is available at 7:00 am and late pick up is available until 5:30 pm.   
Full-Day:  Monday – Friday 7:00 am – 5:30 pm
Half Day:  Monday – Friday 7:00 am – 12:30 pm (bussing time)
Camp is located at the BOLD School
Safety is our first priority.
Campers are taught the YMCA core values of caring, honesty, respect and responsibility.
All camp staff are CPR and first-aid certified. With a staff-to-child ratio of 1:15, we make sure that each staff member can give the required attention to each child.
Snack
Water Bottle
Sunscreen
Swimsuit and Towel 
Weather Appropriate Clothing
Tennis Shoes (No sandals, flip-flops, or open-toed shoes)
Please DO NOT bring electronics or toys from home
We recommend labeling belongings with your child's name.
| | |
| --- | --- |
| Member Weekly Rate | $140/child |
| Non-Member Weekly Rate | $160/child |
| Member Half-Day | $80/child |
| Non-Member Half-Day | $100/child |
Daily drop off begins at 7:00 am
Bussing will be available for morning, mid-day and end-of-day transportation
half-day pick-up required by 12:30 pm
Afternoon pick-up required by 5:30 pm
General Daily Schedule
7:00-9:00am
Extended Care and Breakfast
9:00-9:15am
Opening Ceremony
9:15-9:45am
Huddle Group Time
9:45-11:30am
Morning Activity Rotations
11:30am-1:00pm

Lunch, Read, Rest and Crew Service

1/2 Day Program Ends

1:00-3:00pm
Afternoon Activity Rotations
3:00-3:30pm
Huddle Group Time/Reflection
3:30-4:00pm
Closing Ceremony
4:00-5:30
Extended Care and Afternoon Snack
Schedule is subject to change based on swimming, field trips or special activities.
Daily Activities
OPENING CEREMONIES & ANNOUNCEMENTS
Our Opening Ceremony is how your camper will start his/her day each morning! The entire camp group will come together and sing a few silly songs, or a 'get to know you' ice breaker. The goal is to start our camp day with a similar routine each day that allows the campers to have fun together before the day begins. This will also be a time where we announce our theme for the week and any special or important items the campers should know.
Huddle Group time is the time of day where we focus on setting the tone of camp. We work to inspire the campers to work together and play to build relationships with each other that will hopefully turn into friendships that last a lifetime. Because of this, Huddle Group time is one of the most important parts of our day. Each camp group meet at their "home base" and divides into smaller groups to play different games and activities in order to help build relationships skills and get to know each other.
MORNING ACTIVITY ROTATIONS
This is the jump-start into the camp day! Our morning activity rotations will focus on a wide range of activities. Some will get the campers' bodies moving using high-energy games, some will be activities that will inspire curiosity and creativity, and others will engage campers to explore, build, and experiment.
LUNCH, READ, REST & CREW SERVICE
Lunch is a time for the campers to sit together with their counselors and enjoy a meal. This will be a time of relationship building and eating, followed by a time for reading, sometimes individually, in a small group, or as a camp group. Campers also learn and experience how we value responsibility by helping to clean up their camp area to prepare for lunch and clean up after themselves alongside their camp counselors. This is a great opportunity for campers to take ownership of their camp experience and learn responsibility!
AFTERNOON ACTIVITY ROTATIONS
Afternoon activity rotations focus on trying new activities that will challenge campers to build new skills or work towards a goal. Our goal is to enhance belonging and accomplishment by creating a place where kids are safe to be themselves and try new things. Each week, each child will choose their activity from the list of offerings and work to master that activity by the end of the week.
HUDDLE GROUP TIME WITH REFLECTION
Huddle Group time at the end of the day is intended for the campers to reflect on and enjoy the day that they just had. Reflection is a great way for campers to really think about how their day went and share it with others. We also focus on continuing to practice and understand the YMCA's four core values of respect, responsibility, caring, and honesty. This time is also used for campers to express their favorite parts of the day, and parts of the day they would change. This is a great opportunity for camp counselors to learn more about each camper and what they enjoy.
Each group will end the day with their camp group and clean up their room before pick-up begins. Daily closing ceremonies may include an activity, a silly song, or a group challenge. On Fridays, there is an extended closing ceremony, where the whole camp group comes together and celebrates the week. This is an opportunity for large group or staff challenges, mini-talent shows, opportunities to honor campers for trying new things or sharing their camp favorites, or voting for what they want the next week to include.